Submitted by Pedro on Wed, 01/24/2018 - 00:02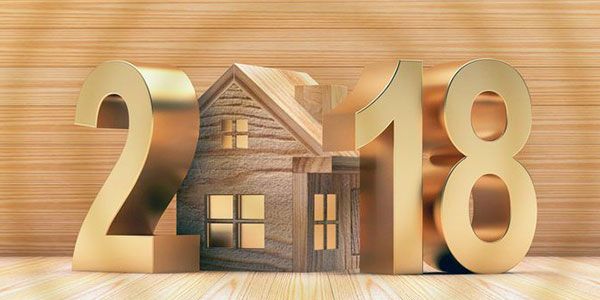 Housing and mortgage trends of 2018 - What buyers can expect
For mortgage and housing industry, 2017 was quite a year! Home prices were high, but, we can't ignore the possibilities and developments we would get this year in the wide U.S. housing industry.
2018 might get rough toward home buyers, especially the first-time homebuyers. Here are a few housing and mortgage trends of 2018 that buyers can expect.
1. Home prices may decelerate
First-time home buyers will be benefited by this news. Home prices are expected to cool down a bit. According to the Federal Housing Finance Agency and the other six industry and lender groups, the median forecast for housing prices shows a 4.1% increase in the existing home prices nationwide. It is much lower as compared to the 6.3% in 2016 and about 6% in 2017.
2. More homes will be available for sale
In 2017, home buyers were struggling to find a house that is listed for sale. But there's some hope for 2018. As per the Realtor.com, the housing supply will be easy from late 2018.
Many baby boomers will continue to live in their homes for long instead of downsizing.
Investors purchased millions of homes after the housing bubble burst, and now as the home buying will increase, they'll be making good money as landlords.
Home builders will gain more profit from expensive houses than entry-level houses. So, they'll keep constructing more expensive houses.
The chief economist of Realtor.com, Danielle Hale, expressed "It looks like we could get to a point where we're seeing growth in inventory sometime in the fall of 2018."
3. Home sales may rise
Resales of existing homes may rise adequately in 2018. It is expected that existing home sales will increase by 2.5% or to 5.6 million units. Sales of new homes may increase by 7% or to 653,500 newly built single-family houses. So, you can expect this housing and mortgage trends of 2018 may influence your decision about home buying.
4. Single-family houses will rise sharply
In 2018, the construction of single-family houses will increase significantly due to building permit applications. It is expected that the single-family housing will rise about 8% in 2018 or to approx 912,500 new houses.
5. Affordability declines
If mortgage rates and home prices go up this year, it is expected that the homes will become less affordable. For example, if mortgage rates increase to 4.7% at the end of 2018, and the average price of existing homes goes up by 4.1%, then monthly mortgage payments for a common house would increase substantially.
But, according to an analysis by Urban Institute, middle-class families may have the room for negotiation if mortgage rates and home prices rise in 2018.
6. Mortgage rates may head up
Mortgage rates might rise in 2018. As per CoreLogic forecasts, the 30-year fixed mortgage will average 4.7% in December 2018.
In November 2017, the 30-year fixed-rate mortgage averaged 4.07%. At the beginning of 2017, most people assumed mortgage rates would rise steadily throughout the year, and they did.
Within a few weeks, the average 30-year fixed mortgage rate jumped to 4.58% on mid-march. Then the rates declined below 4% in the summer.
7. Security headaches about your money
The main problem you might be facing more this year is to keep your money safe from online hackers and fraudsters. It is expected that Email hacking with wire fraud will continue in 2018. There were several complaints filed in 2016 about wire fraud. According to the 2016 annual report given by the FBI's Internet Crime Complaint Center, the number skyrocketed 480% as compared to 2015.
Lenders and title companies stated that the problem worsened in 2017, and it would remain constant this year too. So, do not engage in any suspicious online mortgage or housing deals. If the offer given is too hard to resist, check out thoroughly.
8. Millennials will be more interested this year
As per Zillow, millennials were 42% of the total homebuyers last year. The number is greater than the previous years. In 2018, the trend might continue rising but it won't reflect in the urban areas where most of them have their jobs.
As per Zillow's chief economist Svenja Gudell, millennials might go for city life by selling off suburban homeownership.
Gudell says "Escalating land and construction costs – along with zoning laws – make it prohibitive for builders to add affordable housing in cities near jobs, so they [millennials] will look to the suburbs." "As a result, that's where millennials and first-time homebuyers will flock for the greater variety of homes at relatively lower prices."
9. Homeowners might tap into their home equity greatly
As values of US homes have increased since the last few years, more and more homeowners have enjoyed higher levels of equity. By using that equity, they've performed home improvements, consolidated credit card debts, and paid for student loans in the form of a cash-out refinance.
As per a research by Freddie Mac, this will likely to continue as housing and mortgage trends of 2018.
"If mortgage rates rise or remain flat, cash-out refinance activity will become an increasingly large share of total refinance activity. Typical cash-out refinances result in a loan amount around 3 to 5 times as large as equity cashed out. If cash-out equity extraction averages $20 billion a quarter, cash-out refinance activity would contribute about $300 billion worth of refinances each year."