Submitted by Pedro on Wed, 12/21/2016 - 03:13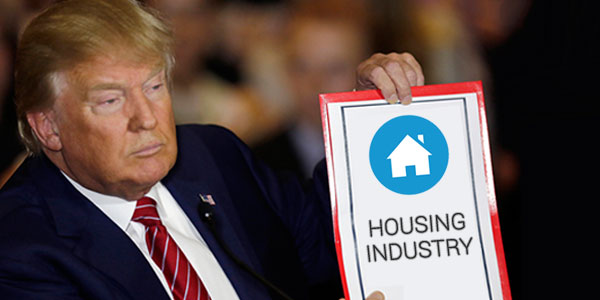 Donald trump is the first real estate industry leader in American history who entered in the White House being the president. So, his presidency might be also pro-property and pro-real estate.
British real estate professionals believe US might expect some financial and economic downtime similar to what Britain had after the British voted to exit the European Union in June 2016. But they have different views over the effect of Trump's presidency on luxury real estate markets in the future. They also expect Mr. Trump may improve trade relations with Britain by giving less importance to other foreign investors.
Though Mr. Trump is a renowned businessman, yet being a President, the policy he has implemented for economic development, is lacking real estate proposals. The policy is primarily focused on tax cuts and government spending.
As a result, it will boost the economy for a short time during the first 6 months in 2017, in form of nation's infrastructure upgrade.
However, there are many other ways Trump's election could shake up Americans' desire for housing.
Please find below some of them:
1. It is expected that in 2017, a trade deficit will arise. At's because our growing economy will encourage us to use foreign commodities and services like German sports cars, Italian wine, Japanese gaming consoles, etc. To reduce the deficit, prices may become higher for consumers.
If somehow exports and imports decline, there's a chance of recession and job loss.
2. Banks might drop their standards regarding their lending policy in this current situation. They might reduce the minimum requirement of credit scores to qualify for a mortgage. This step may provide a short-term boost in mortgage lending and homeownership.
The result may create growing demand for homes. As the demand increases, the price will also increase simultaneously. So, borrowers(especially the young generation) might encounter difficulties to qualify for sufficient mortgage finance.
3. Financing might get a roll back from stringent mortgage underwriting to normal lending patterns. As a result, the credit criteria may remain hard for mortgages, and borrowers might require high credit scores to get approved.
4. Fannie Mae and Freddie Mac might get a big blow on their heads. These two government-sponsored enterprises have made many wrong decisions including purchasing subprime mortgages, creating an internal-hedge fund, and serving political goals. Those mistakes cost hundreds of billions from our paid taxes.
But today, Fannie and Freddie have rectified their mistakes and provided a government guarantee on soundly-written mortgages. Due to that step, the taxpayer bailout money has been repaid.
If the feds want to eliminate Fannie and Freddie due to their previous fault, the cost of mortgages will increase and 30-year fixed rate loans will disappear from the lending industry.
5. The stock market might get benefitted because of less government regulation. The Wall Street might get difficulties due to restrictive international trade policies. So, this uncertainty in the financial market may disrupt the spending behavior of the corporate investors.
6. Homeowners affected from natural disasters and people living in flood zones might get less relief from the government. Presently, $24 billion is allotted to aid programs like wildfires rescue, hurricane relief, earthquake disaster management and others. All type of risks will be properly covered, but the problem may arise due to the outdated flood map enlisted in federal insurance coverage.
The feds might have a tendency to reduce the part of the contribution from their end and increase the amount payable by the homeowners.
7. There might be some changes in Dodd-Frank financial regulation. The compliance cost on small banks may be lifted. As a result, strict lending rules may be imposed on more than 10,000 local and community banks who provide financing for construction and land development. Furthermore, strict financial regulations on large banks can trigger the old "cowboy capitalism" era and have continuous influence of a large taxpayer bailout.
If the regulations become less to ease up the situation, those small banks may encourage home building activities by providing more loans.
Apart from the above mentioned effects, there're might be some positive effects too. Presently, we have U.S. tax code that is pretty much hard. But, there might be a chance of reduction in the property tax deduction, mortgage interest deduction, and exemptions on capital gains from the sale of a home.
There will be many other things that can also impact real estate industry. We must wait and see what's going to happen in the future. In the meantime, let's wish that Mr. Trump can work positively and surprise us in a positive manner.