Submitted by Pedro on Mon, 12/05/2016 - 03:48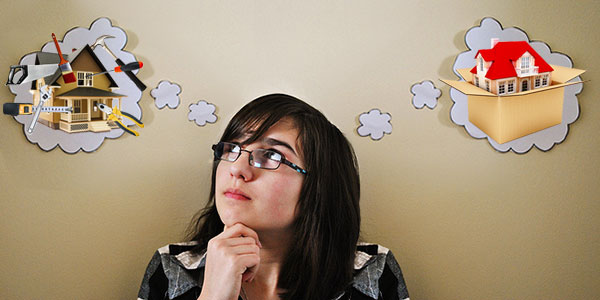 Are you living in your old house since 10 to 6 years? If yes, then you might be thinking of shifting to a new home as soon as possible. But there's another option that you can consider. That option is renovating your existing house and give it a new, fresh look.
Now, you might be thinking - "Which option is best, according to your situation?"
So, let's discuss the factors you may consider while choosing any one a decision:
Before choosing the option you must ask yourself:
a. Is it really important to stay in your current place?
If no, you can think of buying a new one. If yes, and you like your neighborhood, you have the choice to renovate your existing house.
b. Do you have enough budget to finance your home purchase?
If you're living in an expensive city, lack of budget may force you to go for renovating. But, places with affordable homes may lure you to buy a new house.
c. Are you legally eligible for the renovations you desire?
Every municipal, county and other local government bodies have some strict rules on how much you can renovate and expand/modify your existing house. Whether you want to build a new floor or extend the hall, you'll need permission for major renovations.
d. Is it possible to increase your home's value through renovations?
Some of the repair work may do so, but most people consider it as decoration. You must always consult an expert, before investing in big renovation, to verify if they'll add value to your existing house.
e. Do you have any long-term goal for your house?
You must avoid doing renovations if you don't have a future goal for it. For example – you'd only initiate the repair and renovation work and expand your 2-room house only if you need more rooms for your kids.
f. Does buying or moving to a new home affect your property taxes?
Your property taxes may vary between states and counties. So, if you buy a new house in a different state or county, your property taxes may increase or decrease, according to the state and county rules. Consult an expert real estate agent to know more about housing tax laws in different states/counties.
g. If you move to a new home, do you have any effect on the mortgage?
Considering the market condition, buying a new house may lower mortgage. So, if you're have a high rate mortgage, it's better to sell your home and buy a new one with low rates.
You can also refinance your current mortgage with a low rate and take out cash for remodeling work.
Now, it's the time for you to know the advantages and disadvantages of both home buying and remodeling.
Advantages of remodeling
1. More customizable than a new one
It's hard to find an exact match that you dreamed. You can't customize your new home as much you can do to the old one. Even you might find old features in a brand new home.
Remodeling allows you to modify the old structure or add amenities exactly to your specifications, within your budget.
2. Maintaining stability
Living in the same neighborhood means a lot. Having company of old friends, neighbors, same old shops, retailers, old school friends mean alot to us. So, renovation of your existing house can allow you to live in a familiar, comfortable environment.
3. It's a cheaper option
If you calculate as per current market value, the cost of per-square-foot remodeling expenses is less than a retail property price. Keeping all the prime factors intact like - total size, location, amenities, etc, as a homeowner, you may engage more money towards your existing home.
You can easily extend your living space without exceeding the cost of buying a new home.
Disadvantages of remodeling
1. Financing problems
Remodeling will require a good amount in your hand. To fund that requirement you'll have multiple options like - taking out a loan from family, homeowner loan, vendor loans, etc. But, it'll be hard to get any financing if you don't have any equity in that house.
2. Not suitable for total modification
If your house needs a complete makeover, then you mustn't go for the remodeling job. It's impractical to spend thousands of dollars to change every inch of your old home. By using that amount of money, you may even buy a new home. So, it'll be an investment where the return is much lesser than expected. It's better to renovate a few rooms rather than a total do-over.
3. Not suitable for downsizing
If you want to downsize your home, remodeling is not the right choice.
The process of downsizing will need a good amount of money to break, remove or shift things up. Investing that much money to reduce your home-value is not worth to be called as "remodeling".
So, you should go for remodeling work(downsizing) only if there are a shortage of homes in your neighborhood.
Advantages of buying or relocating to a new house:
1. Exemption on income tax
A married couple can exclude up to $500,000 from the house sale proceeds.
But before you sell your old one and buy a new property, you must seek professional advice to understand the tax implications.
2. A focus on family
After moving to a new home, people and families often focus on relationship building. They get interested in spending time together, share interests, and discuss each other's problems clearly.
3. A new beginning
Shifting to a new home is a fresh start for every home buyer. The new home is the best place to arrange a marriage or the birth of your children.
It's an opportunity to meet new people, discover new areas, and get to know your new surrounding. You can build your desired home and lead the life the way you want.
4. Get back old lost stuff
Moving from your old home to your new house may have another small benefit. While moving your stuff, you'll always find something long-lost forgotten things in your old place. So, you can sort, throw away, and pack all your necessary things and move to your new home. This practice is one of the best ways to remove junk or discover things which otherwise you might have bought.
Disadvantages of buying or relocating to a new house:
1. Problem while moving and packing
It's very hard to move your old stuff easily. The more people live in your house, the more things you have to shift to your new one. Moving is a time-consuming, expensive, hazardous, and tiring thing to do. You just need to pull up your socks and get going.
2. Higher costs
Relocating or buying a new home may become costlier as it'll include commission on the purchase. It may also include different costs like appraisal costs, legal fees, title search fees, title insurance, etc.
These expenses are much higher than the money that you'll spend on renovation, as there are no extra charges on it.
Conclusion
It's easy to decide whether you need overall remodeling or a bigger place to dwell in. But you must know how to choose the best option. Remodeling the old house and relocating to a new home - both will serve your purpose. But it is your duty to choose the option correctly that can secure your happy living.
Read more:
Biggest remodeling mistakes you need to avoid for saving your wallet
Home ownership: Know all the expenses that are obvious